Packing your belonging in the cardboard box is only half the job done. It is important to adequately mark the boxes as well! Unpacking can be very difficult if all the boxes look the same. Be smart and use color coding when moving! Local movers Denver will teach you how to mark and color code your boxes like a professional. This will help you out a lot during the packing process and it will ease the unpacking as well. Sometimes small tips can make a huge difference and color coding is definitely one of those small relieving tricks. With a few color pencils, you can organize your staff much better and increase control of your move by knowing what is packed and where it should go. If you managed to organize a few friends during a DIY move, you can rest assured knowing that all the items will end up in the right place.
What do you need for color coding?
Marking card boxes is relatively easy and you only need goodwill and a few color pens. It's good to have different colors at and but it is not a necessity, as long as you can improvise. However, the essentials are:
Waterproof permanent markers – good selection of colors
Sticky labels – you can print and duct tape these
Colored tape – common hardware store finds are: black, red, and white
You probably have some of these items in your house already. Al thou, it's good to acquire a few new ones as well. Different colors will help you organize the boxes precisely and waterproof markers will make sure those color codes stay permanent in case of rain, snow, or moisture. Make sure to tape secondhand boxes over any previous labels in order to avoid confusion. This way you will be able to adequately address the boxes when unpacking time arrives.
What are the essential markings?
There are a few ways you can do this depending on the size of your move. All the full service moving companies Denver has to offer, use the color coding method when moving, all the time. Larger houses require larger amounts of details on their labels and the opposite. Few standard ones are:
Description of the content – one word can sometimes be enough
Card box wight indicator – this will help you when packing the back of the truck
Another indicator should be the "FRAGILE" sign – make sure you mark these with a red marker
Related to the previous mark is the "THIS SIDE UP" mark – it's always good to know
Box location at its arrival – that way "BEDROOM" boxes will end up in the bedroom
Labeling like a professional.
There are many ways to use color-coding when moving. People usually place labels on various items, ranging from bottles, plastic bags, toolboxes, and furniture parts boxes. The purpose is always the same – to highlight the importance and describe the inside of the package. Placing the label on the item or the package is important but it is as important as how you orient the label. Make sure you don't need to turn the item in order to be able to read it.
Also, labels should be visible when arranged in the truck. If the markings are not visible when piled up then there is no practical use for them when double-checking occurs. This will allow the helpers as well as hired professionals service to find the right spot for the box as well as to know what they are dealing with.
Moving companies in Boulder CO use this valuable tip: the label should be duct-taped on the most visible part of the card box. If your helping hand is picking a box from a stack of the same boxes, then the logical place for the label would be on the top of the box. If, however, boxes are stacked one on top of another, a label might be most visible if sicked to the sides of these boxes.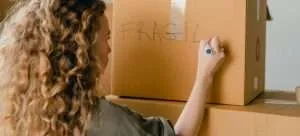 The different label options when moving.
Printed labels give a range of options! Different fonts and word sizes as well as colors and underlines can draw additional attention to a particular package. Be it a "DON'T BREAK THIS STEVE" sign your wife gave you for that fragile honeymoon Italian pottery box or any other sign that will draw your attention. It is a good practice to describe the boxes and mark them with visible letters and signs. If you organize a large DIY move, it is imperative to have those markings on all of the boxes so the belongings stay organized.
Print at least two copies or common signs like "CLOTHES" on regular paper and tape them to the opposite sides of the package.
Premade stickers will make your markings nice, clean, and visible. We recommend to use them.
Writing on a box should be done in a way it stays readable for everyone who is not familiar with your handwriting in particular.
How to use color coding when moving?
It is ideal to organize the colors for each room or each floor at least. By using color coding when relocating, you can categorize and divide your belongings by location and importance. You will make your and movers' job much easier.
Ideally, assign each color to each room
Stick to the basic colors, don't let them mix up due to similarity.
Seal the box with different duct tape colors
Make sure that everybody understands the system so there is no confusion
Provide each floor with a color key list so the helpers can remind themselves about the system
That way your helpers will know exactly where each box goes and this will significantly speed up the process. Even if some of the boxes end up in a room they don't belong, you will be able to correct the mistake with ease. This will allow the truck to unload quickly and efficiently. When color coding when moving it is much easier to unpack the box that belongs to the exact room than to shift around the house searching for the right place.