Are you getting ready to move your home to another neighborhood? Do you have a small inventory but not enough time to get ready for your move? If the answer is – yes then we have a solution. Homegrown Moving and Storage Company Colorado is one of the most experienced moving companies in Colorado, specializing in both small and big moves. We believe that planning a small move is not something to be taken lightly. Our Denver small movers CO are here to help you plan the moving day and handle every moving box with ease. Let us know whether you are in the need of transportation services or you prefer us to provide full moving service. Before you give us a call, take a look at how we can help you achieve an easy relocation.
Why is it important to hire Denver small movers?
Although small moves are not complicated to organize, packing and moving your inventory will take some time. Even if you are moving just a few streets away from your current home, you should consider hiring our local movers to assist you.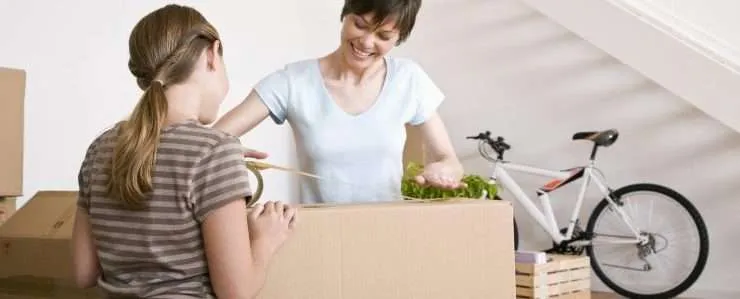 If you are not sure why should you do it, here are just some of the reasons:
Our local Denver small movers save your time. Small moves also need to be well planned, especially if you need to move on your own.
Relocating heavy furniture and fragile items is not easy. Our Denver small movers have the right equipment to handle your belongings.
Homegrown Moving and Storage Company provides moving service for any occasion. It doesn't matter when and where you need to move. No matter the size of your inventory, our Denver small movers CO will handle it.
Tired of looking for packing supplies? Let us provide them for you. Our moving company has all the supplies you might need for your upcoming relocation.
You will have licensed moving professionals at your disposal
We are a company that takes pride in being fully verified and transparent. Working with us means working with a trustworthy team that has your back the entire time. To us, your needs and well-being are the most important. Therefore, rest assured that you can expect no less than professionalism and assistance from start to finish. You also don't have to worry about additional fees, since we at Home Grown Moving Company make sure to keep it honest with you. 
Expect all the help you need from moving professionals who prioritize your well-being and your best interest. Once they start working, you will realize how easy and simple any moving endeavor can go.
Good planning is haft the job done
When moving a home, whether it's a local or a long-distance move, it's important to be ready for the moving day. There are some situations we can't predict, so the more you organize and plan the moving day, the fewer troubles there will be. In order to get ready for a successful moving day, you should consider making a moving plan. By writing down important things to do, you will say organized and even save money on your move. Here's a suggestion for making a moving plan:
Set the moving date. When you know how much time you have to prepare, it's going to be easier to organize.
Contact local Denver small movers. Although planning a small move is easier than a long distance one, you should book a moving company as soon as you can. If you hire them sooner than later, you'll increase your chances of getting a discount on moving services.
Declutter your home and decide what to move. More often than not, people move too many items into their new homes. Why not save some money and get rid of old and unnecessary items?
Choose a moving service. By contacting our moving company, you can ask for more details about local moving services. Our Denver small movers will make sure to suggest the best option for your moving budget.
Plan a moving day. Your movers can help you plan it one step at a time.
Wait for our Denver movers to come and handle the move for you!
Get Your
Free Estimate Today!
How can we prepare your belongings for local moving?
When it comes to the packing process, there are two ways you can manage it. The first one is to try a DIY decluttering and packing project. And the second way is – to let our professionals pack every moving box for you. Our moving company offers reliable and professional packing services that exist to save you valuable time. In order to prepare your inventory for the move, we use the best-quality packing services and equipment. No matter the distance of your relocation, our Denver small movers will make sure to secure every item professionally.
Packing supplies
One of the most important things to do while moving is to get the right number of moving boxes. When it comes to packing supplies, we will make sure to provide them for you after we calculate your inventory. You don't have to worry about different sizes of moving boxes. Our Denver small movers CO knows how to evaluate your inventory and make a perfect packing plan.
The quality of our moving supplies counts as one of the best you'll find in Denver. Rest assured the boxes we provide you with are convenient both for storage periods and longer relocation journeys. Sturdy, cardboard boxes are strong enough to keep your belongings inside, thus preventing them from breaking during the move.
Furniture relocation
One of the hardest parts of every relocation is furniture moving. Furniture needs to be secured and packed in the right way, in order to keep it safe during a move. Moreover, our Denver small movers can take over and handle this task for you. Why should you strain your back and risk damaging your furniture? Our local moving crew in Denver is here to do all the hard work on your moving day. When you have a skilled team of moving professionals at your side, heavy loads are the least of your worries.
Prepare your belongings before our Denver small movers come
In order to make the packing process as efficient as possible, you should consider decluttering your home before the move. By doing so, you will save your time while packing and use fewer boxes after getting rid of unnecessary items. Moreover, if you decide to hire our professional packers, you will allow your movers to pack with ease.
Small moves in Denver – hourly rates
With these types of small moves, we offer hourly rates to help save you time and money. We understand that every move is unique and that even simply moving a few items across the Denver metro can be very stressful and time-consuming. That is why we want to help make the process as easy and painless as possible. Call us today to get a free moving quote and learn how we can get your small move in Denver done for you!
What are the reasons to move to Denver?
Relocating to the city of Denver is a popular moving trend. Considering Denver's thriving economy and expanding job market, this fact doesn't come as a surprise. Tech and agriculture industries are among the strongest ones. Plus, living in Denver is affordable and true bliss. All Denver neighborhoods have something unique about them. Whether you choose to live in Harvey Park or Sunnyside, you won't make the wrong choice. Those who prefer to live somewhere more peaceful and quiet often choose suburbs in Denver's surrounding area. The commuting system in Denver perfectly connects all the neighborhoods and suburbs. As a fast-developing city, Denver has plenty to offer to those who decide to come and start a new life there. Besides job-seekers, entrepreneurs see Denver as a perfect place for their startups.
Denver is the city of great beer, various dining options, sports events, and music festivals. The city never sleeps since there's always happening. The people are generous, welcoming, and respectful towards different cultures. A diverse community is another reason why moving to Denver is the right decision. That's also why Denver is considered a family-friendly place that offers plenty of opportunities.
Choose one of the best small movers in Denver!
If you are looking for trustworthy Denver small movers CO, you might just have found them! Homegrown Moving and Storage Company Colorado has years of experience in handling both small and big relocations. All you need to do is to contact our movers and make sure to ask for your free moving quote! Let us know when and where you need to move and we will make your moving day feel easy!